SPEED
No sample preparation is required
The cumbersome preparatory work is not necessary. Cleaving, deposition and pumping down do not need to be done.
You can put a large-size specimen on the stage without reworking it and can start observation right away.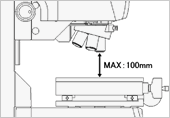 The recipe function enhances the ease of measurement.
A sequence of steps leading to the start of measurement can be registered in a recipe.
A sequence of steps from image capturing to image filtering to measurement can be executed automatically.