MITAKA / RYOKOSHA
NH-3N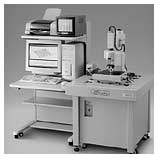 This equipment has made complete non-contact, high precision, automatic measurement of shape, dimensions and surface roughness possible with a laser probe system. It provides multi-measurement functionality for a wide range of uses from R&D to quality control of the manufacturing line for photonic devices, semiconductor products, ultra-precision machining parts, etc. for which the market will demand smaller products with higher precision and lower costs.
Features
Four years after first being sold, the NH-3, which has become a byword for non-contact height measurement, has evolved into the new NH-3N, implementing feedback on the functions of the high precision NH-3 SP.
Experience the world of ultimate non-contact measurement which features auto focus functionality that is not affected by low reflectivity and completely non-destructive measurement, at the same time pushing the edge of precision for Z, X and Y measurements.
Specifications / Measuring Functions
Specifications
Lens
shape measurement (with laser probe)

Radius of curvature (Rc) for each lens surface, center coordinates
Roundness
Apical height, X and Y coordinates
Cross-sectional/3D shape measurement, surface roughness measurement

Optical
properties evaluation (with image processing)

Effective focal distance (fb, ff)
Back focus (BFL)
Focus position (Sx, Sy, Sz) of each lens, displacement
Focus spot size (Wx, Wy) of each lens
Transmittance
Focal plane imaging testing (coma aberration, distortion, etc.)
Measurement Examples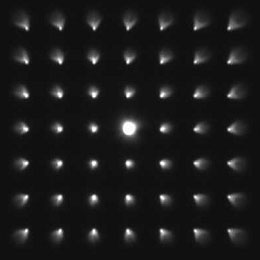 Aspheric lens coma aberration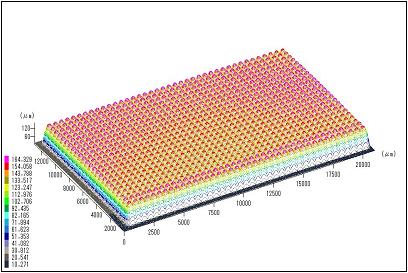 MLA 3D shape measurement result
Measuring Functions
3D shape measurement, cross-sectional shape measurement, roughness measurement, automatic measurement, various measuring functions